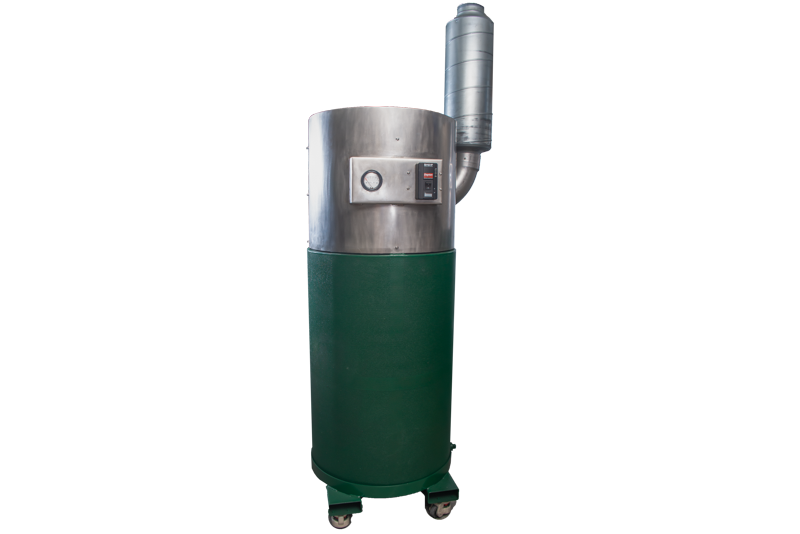 Simple Solutions Distributing has been designing and building molecular air scrubbers for the wastewater industry since 2003. With the introduction of the RMS-800 we bring our odor control expertise to the regulated cannabis market. The RMS-800 is a two stage filtration system designed for cannabis grow rooms, greenhouses, and processing rooms. It can also be used in evidence rooms, morgues, funeral homes, or anywhere that volatile organic compounds (VOCs) can be found and where venting the filtered air to the outside is either not desired or not practical.
The RMS-800 has a small footprint of just 24"x24", 60-1/8"high and can be customized for your particular application. Thanks to its small footprint and optional casters, the unit can be moved easily without requiring a great deal of space. It comes standard with four lift points that can be used to winch the system overhead, thus saving space on the grow or processing floor. It includes 250lbs of activated carbon and a Merv 7 pre-filter to remove mold spores, dust, skin cells and any particles from 3.0 to 10.0 microns.
When it comes to the cost of running the RMS-800, it comes with a blower that will consume 2,238 kWh when run for 2,000 hours per year. That results in an operating cost of just $246 (assuming wiring for 440v).
General Specifications Wolverine Brand Industrial Recycling Molecular Scrubber RMS-800
Two stage filtration system with:

Merv7 Pre-filter for removal of mold spores, dust and other contaminants

7.5 cf carbon bed. ( 250 lbs ) GC-C40 activated carbon to remove terpenes and other odor causing molecules

.56 seconds of carbon bed contact time (56/100)

800 CFM airflow

Industrial pressure blower to ensure proper airflow as filter loads with contaminates

Standard voltage - 110-220/1/60

Optional voltages/phase - 208-230/460V/3/60

CSA/UL Listed motor and electrical components

Cost of Operation

Energy Consumption: 2238 kWh (2000 h/year) (assuming wiring for 440v)

Running cost per year: $246 (assuming wiring for 440v)

Housing made of 16 gauge carbon steel

Stainless available as an option

Height: 60-1/8 in (152.3 cm)

Diameter: 24" 61 cm

Weight: 160 lbs empty / 240 lbs with carbon

Inlet: Radial up flow filter with .125" Inlets spaced on centers 3/8" with 40% open space.

Inlet to carbon bed- surface area 1447 square inches

Inlet to air plenum –surface area 290 square inches

Outlet: 5 inch pipe – surface area 19.6 square inches

Two 4" fill ports for easy carbon change outs

Magnehelic Differential Pressure Gauge to monitor pressure drop

Pressure drop of empty housing @ 800 CFM – 2.5 in/ H2O

Pressure drop filter with full load of carbon @800 CFM 3 in/H2O

Condensation drain

6 inch diameter inner air plenum

Built in skid for easy lifting to mount above work space

Forklift slots are 4 ¾" x 1 ¾" 15.25 inches on center

Casters that easily slide into fork slots

For more information, call us at 973-846-7817 or contact us using this form.