Activated Carbon Manhole Odor Filter Insert (FREE GIFT)
Code: MNHL
---
---
Product Details
For a limited time, get a free Breakthrough Saturation Indicator Sticker FREE when you order this product.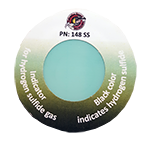 Hydrogen Sulfide (H2S) based sewer odors emanating from wastewater sewer line manhole covers are an extreme nuisance for residential homeowners or users of near-by public facilities or property. The negative publicity and hassle caused by persistent nuisance sewer odor complaints originating from manhole covers are costly in both time and money for cities or industries that own the odor-producing infrastructure.
Simple Solutions Distributing LLC offers this cost-effective manhole odor control solution in the form of The Wolverine Brand Manhole Odor Filter Insert
See more details below.
---